How to register an AliPay account and set up quick pay?
A step by step tutorial for Alipay Sign Up and quick pay setup.
Enjoying the title of the nation's No.1 mobile payment method, Alipay is credited with its powerful and flexible payment making solutions that have facilitated people's lives with great convenience in many aspects.
Besides dealing with regular financial transactions like money transfer and QR code pay/receive, AliPay also offers credit pay allowing payment made in installments and access to other applications that covers a wide range of people's consuming activities, such as utility payment, phone top-up, tickets buying, ride paying, etc.
In addition, AliPay is providing a friendly customer service system to answer questions or offer supports. In case of any issue you may experience when using Alipay, the hotline 95188 (for outbound dial +86 571 95188) is dedicated to solving your problem with easy access and professional answers.
Here let's see how to get AliPay installed onto your phone.
Search 'AliPay' in App Gallery on Android devices, or App Store on iOS devices: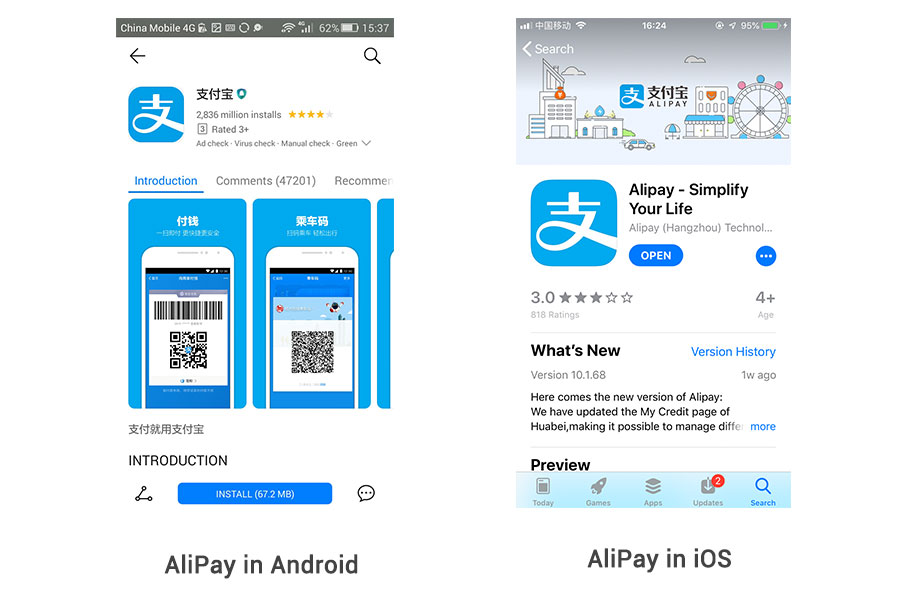 After installed, open the app and start to sign up: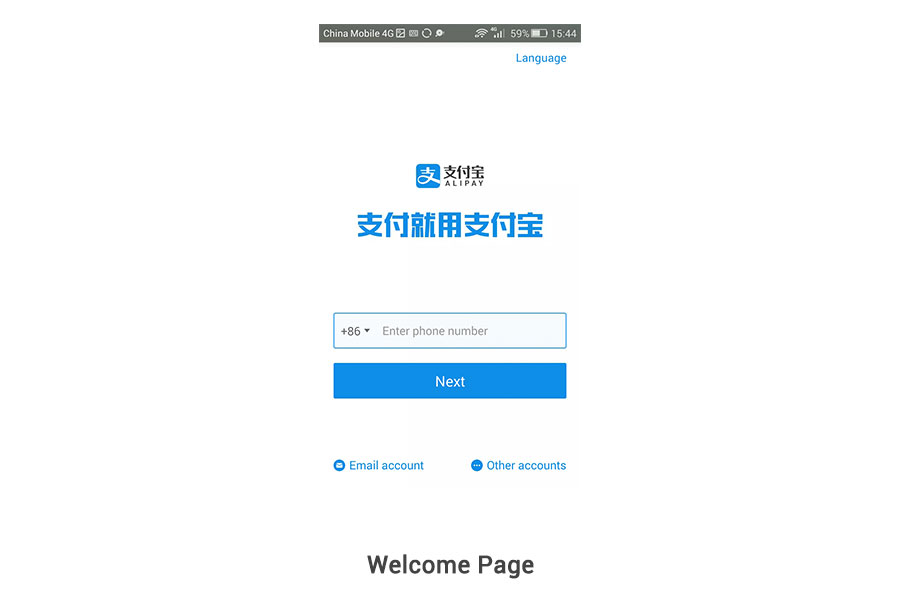 AliPay supports Sign Up with valid phone numbers registered in a wide range of countries, select the matching region number and fill with the phone number, then tap 'Next' to go Verify.
Fill in the verification code sent to the phone by SMS message, and tap 'Next'.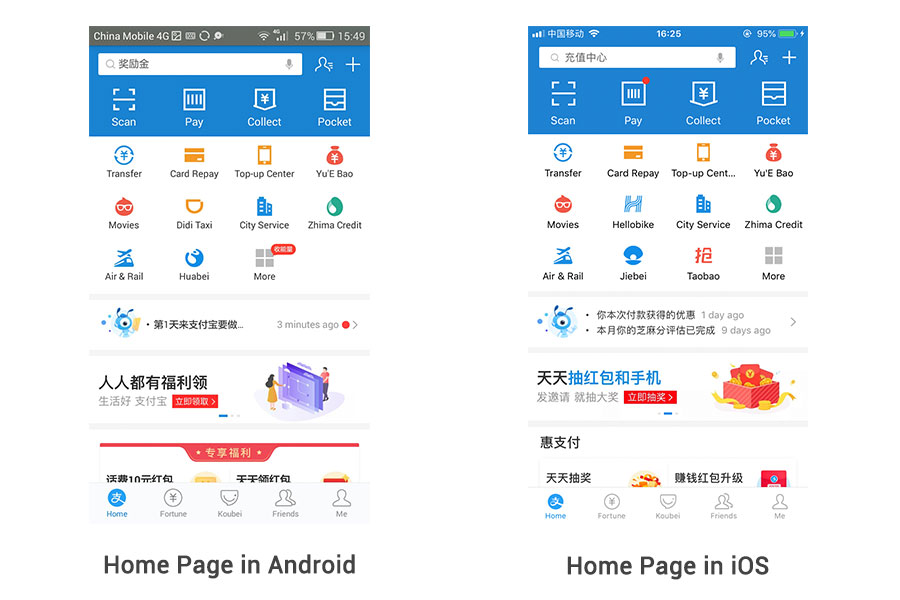 When the main page showed up on the screen, your AliPay account has been successfully created!
Now, let's start to set up the quick pay in AliPay account. In this procedure, you'll need a bank card to finish the setup.
Tap 'Bank Cards' at the page of 'Me', you'll see the button to add a new card.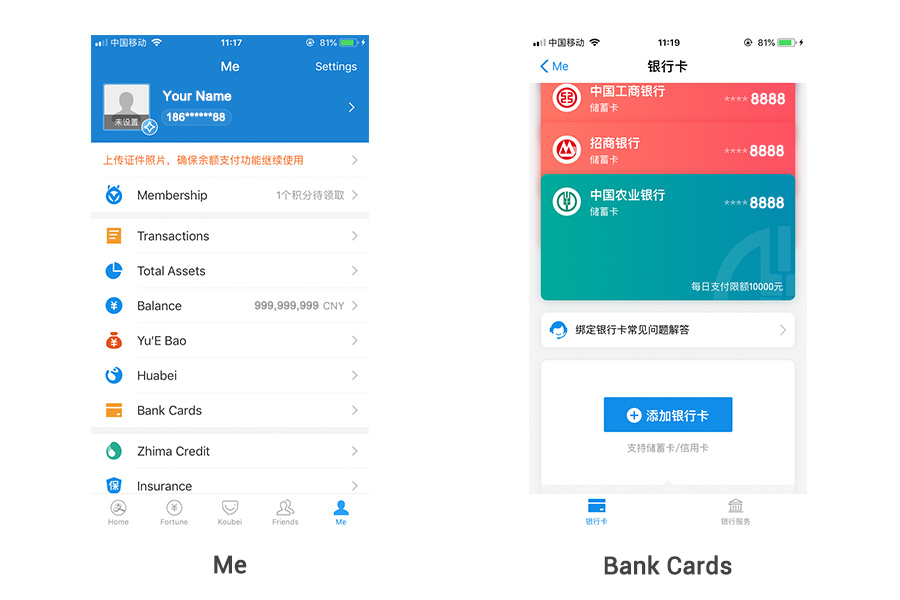 As Alipay is now supporting card linking to bank cards issued in a wide range of countries and regions, you could either select a debit card or credit card issued in your own country/region to finish this step. However, Alipay's full features and functions are only available after the account's real-name authentication has been accomplished, which is suggested to link with a Chinese local card. See How to open a Chinese native bank card?
According to the official interpretations by AliPay, the account linked to a foreign card can only pay for the orders generated from taobao.com or tmall.com, attempts to pay to the other third-party could be failed. With the growing demand for extending foreign card's application scope, AliPay has launched the feature of 'TourPass' to meet the requirement. See How to activate your digital quick pay with international cards via AliPay?
After the card linking has been finished, we should set a password to get the quick pay ready.
Open Alipay and tap the icon 'Pay', then you'll see a notification 'The current isn't carried out before a payment password is set', select 'Set Now' and finish the password setting.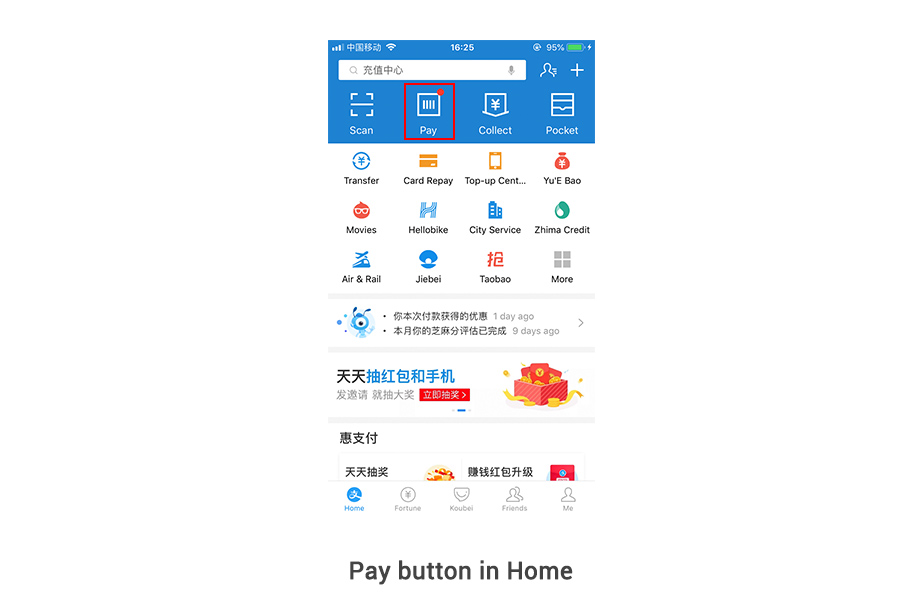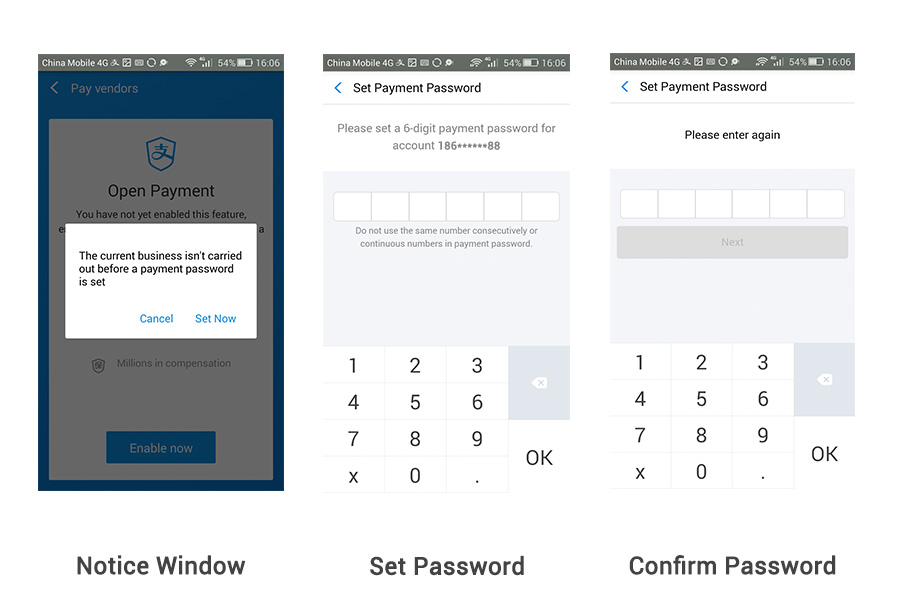 Finally, it's done! You've got an Alipay account and set up the quick pay.
There are two methods to make payments through AliPay:
1. Show your QR code to others
When you are going to make a payment at a market, a grocery, or any vendor which has a code scanner, you are always required to show your account's QR code to finish the payment. Open the AliPay, tap 'Pay' on the main page, and then show the QR code to the cashier.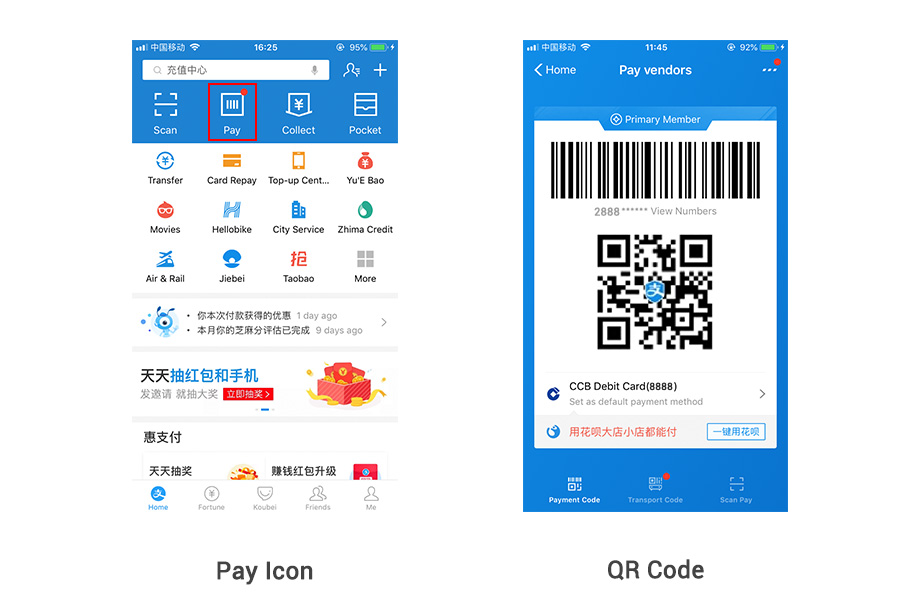 2. Scan the QR code presented by others
In this case, open the AliPay and tap 'Scan' to call out the camera, aim the frame field at the QR code presented by the recipient, fill in the payment amount, and type in the password, payment made successfully!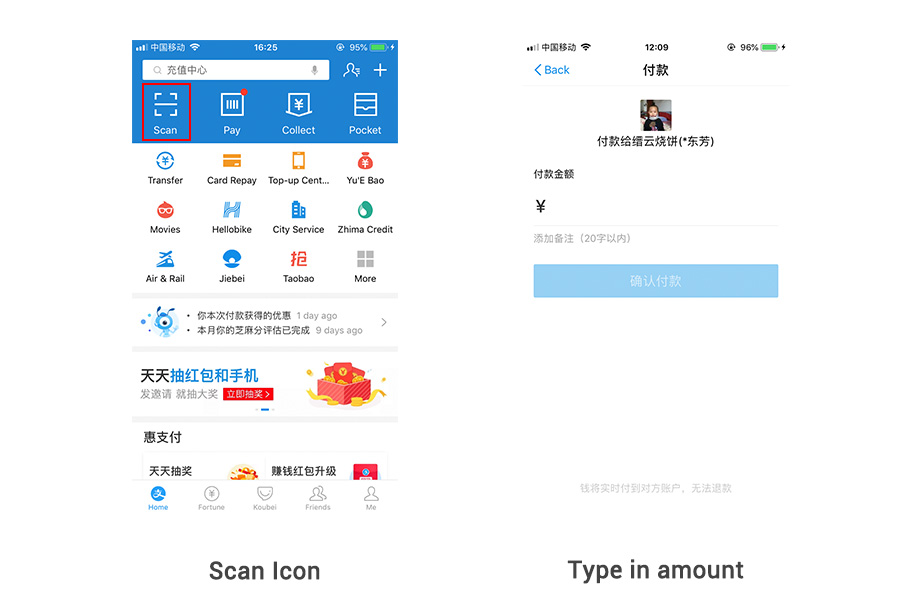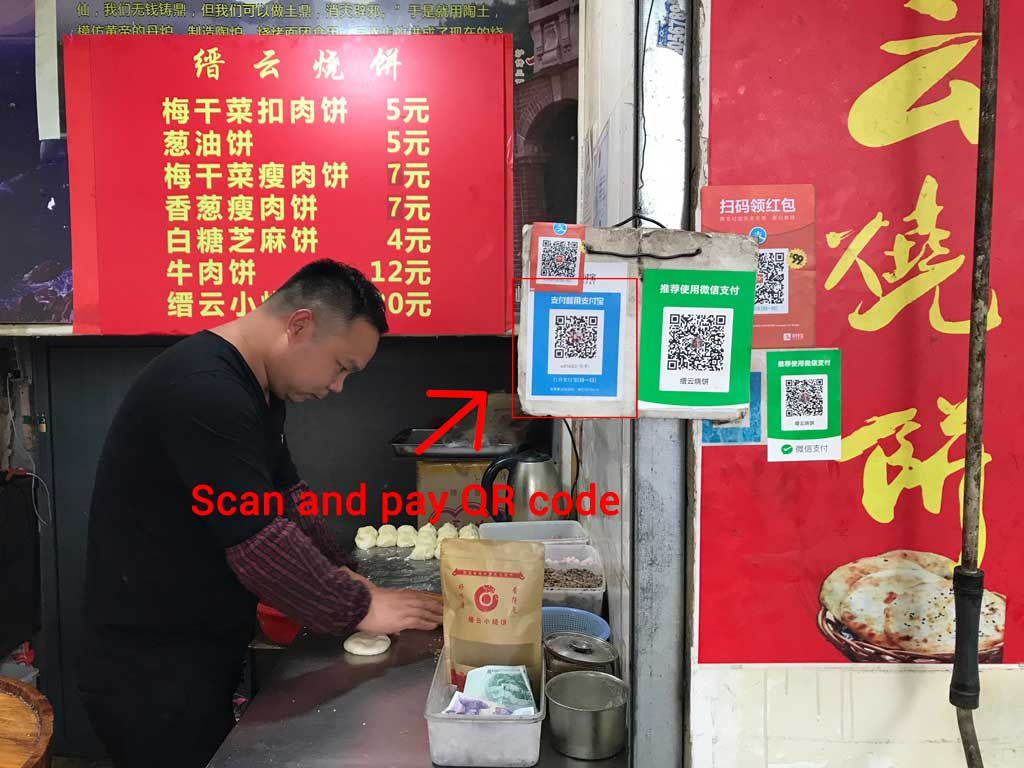 - Additional complement about AliPay -
The differences of the using scope with an AliPay account in various real-name verification status:
The default account, a phone number registered account without linking to a bank card. This type of accounts can not be used with financial activities like paying or money transferring. The using scope may include friend communication and browsing through other mini-programs or applications that are embedded in AliPay.
The TourPass account, the account registered with a foreign phone number and a connection to a foreign credit card, has not yet been through real-name verification. This type of accounts can be used for paying for orders on Taobao.com and Tmall.com and the consuming bills from a shopping mall, store, supermarket, grocery, and part of the individual money-collectors. Money transfer is not available to this type of account.
The real-name verified account, type A, referring to the account type that has been registered with a phone number (either a China native number or an overseas number) and a connection to a foreign bank card, and it's been through the real-name verification with a passport. This type of accounts is facilitated with the using scope of a TourPass type account; moreover, they can be used for money transfer. However, you should notice that the money you are going to transfer is based on the balance kept in the account. All of the money transfer transactions are not going through the real bank card you've connected with. So if you want to make a money transfer out to a money collector, make sure you had collected some amount in your account balance from others who transferred money to you via AliPay.
The real-name verified account, type B, referring to the account type that has been registered with a phone number (either a China native number or an overseas number) and a connection to a China local bank card, and the real-name verification has been accomplished with the success of a connection made to this China local bank card. This type of accounts is facilitated with almost all of the features AliPay is providing to users. It can be used for paying for all kinds of consumption bills ranging from online orders and offline payments, and money transfers can be started from either the account balance or the real bank card(s) connected with. In addition, paying method with AliPay is activated among all other apps that incorporate AliPay as one of the valid paying methods. Users can use it to pay for an order from Didi, Meituan, Mobike, and other similar third-party applications, powerful and convenient!
Other articles about AliPay:
How to open a TourPass account in AliPay with an overseas bank card?
What can you do when your AliPay account gets frozen or blocked?
You Might Also Like