Shanghai Hotels
Hotels in Shanghai
The metropolis of Shanghai receives around 400 million visitors domestically and internationally every year thanks to its prosperous business development, famed tourist sights and various exhibitions and international conferences held yearly.
To meet the increasing demands of bloomed tourism market, Shanghai's hotel industry is developing at a rapid pace too. From the first foreign-invest 5-star hotel - Jing'an Hilton which was built 32 years ago in 1987, to a total amount of over 70 five-star hotels in town today, Shanghai's hotel industry – from the amount, facilities to services - has in all aspects walked to the premium stage in China and even Asia at large.

The march of international hotel brands has set a vital example for Shanghai's hotel industry, which leads and have pushed Shanghai's service standard to a higher level – whether you have just arrived at the airports or train stations, shopping around the CBD, or having fun at Shanghai Disney Resort, you see multiple international brands everywhere. Meanwhile, China's local hotel brands such as Jinjiang International Holdings has been seeking chances to expand their business territory too amid the development trend.

A historical metropolis as it is, Shanghai's rich culture is seen in many aspects. Jing'an Temple, Xintiandi, the Bund, these are the famed landmarks where historical architecture are remarkably fused with the beauty of modern and classic. Thankfully, the unique culture has gifted Shanghai's hotel industry with various types that we admire – there are boutique hotels hidden in tranquil former French Concession, luxury modern hotels standing around Jing'an Temple, xintiandi, or advanced Lujiazui area, and there are also relaxed resort hotels near Sheshan Forest Park, as well as park themed hotels in Shanghai Disney resort.

Meanwhile, as a supplement to traditional hotels, Shanghai also sees a large amount of service apartments and unique homestays which have met various demands from the large consumption group.
Luxury Hotels
Here we list several Shanghai's most famous and popular luxury hotels, especially some of them are in heritage architectures.
Mandarin Oriental Pudong 浦东东方文华酒店
Although the Mandarin boasts some super views of the Huangpu River, the north Bund and the jaw-dropping skyscrapers of Pudong, it does feel removed from the main tourist attraction. Nearby attractions are limited to the astonishing 127-storey Shanghai Tower (a must visit) and a couple of shopping malls. In the lobby, a show-stopping wall of colored glass, rings of geometric chandeliers and the clip-clopping of red soles on marble. Museum quality works of Chinese art are scattered across the hotel and while the atmosphere exudes exclusivity, the smooth staff ensure everyone feels as if they belong.
A seductive 25-metre indoor swimming pool, a sprawling tech-savvy gym, a comprehensive business centre and luxurious Club Lounge – at an additional RMB485 per room a worthwhile splurge for the lavish all day drinking and dining it includes.
Room rates at Mandarin Oriental Pudong start from RMB 2,500.
Address: No.111 South Pudong Road, by Binjiang Avenue, Pudong New District (021-2082 9888)
地址:浦东新区浦东南路111号, 近滨江大道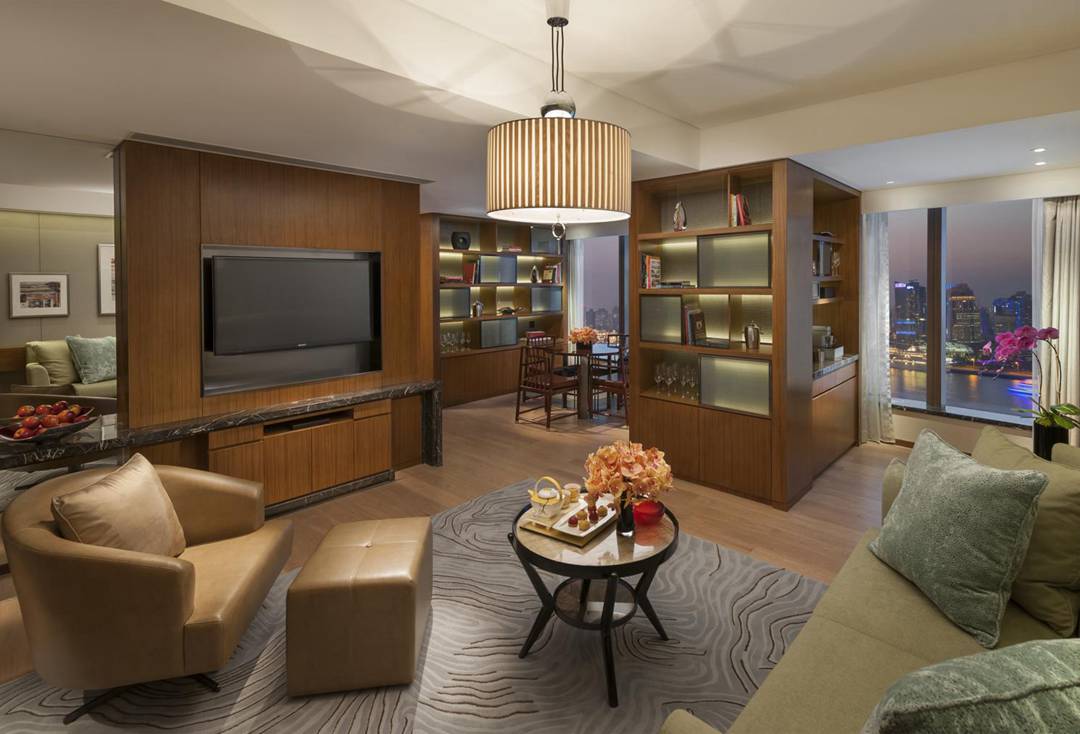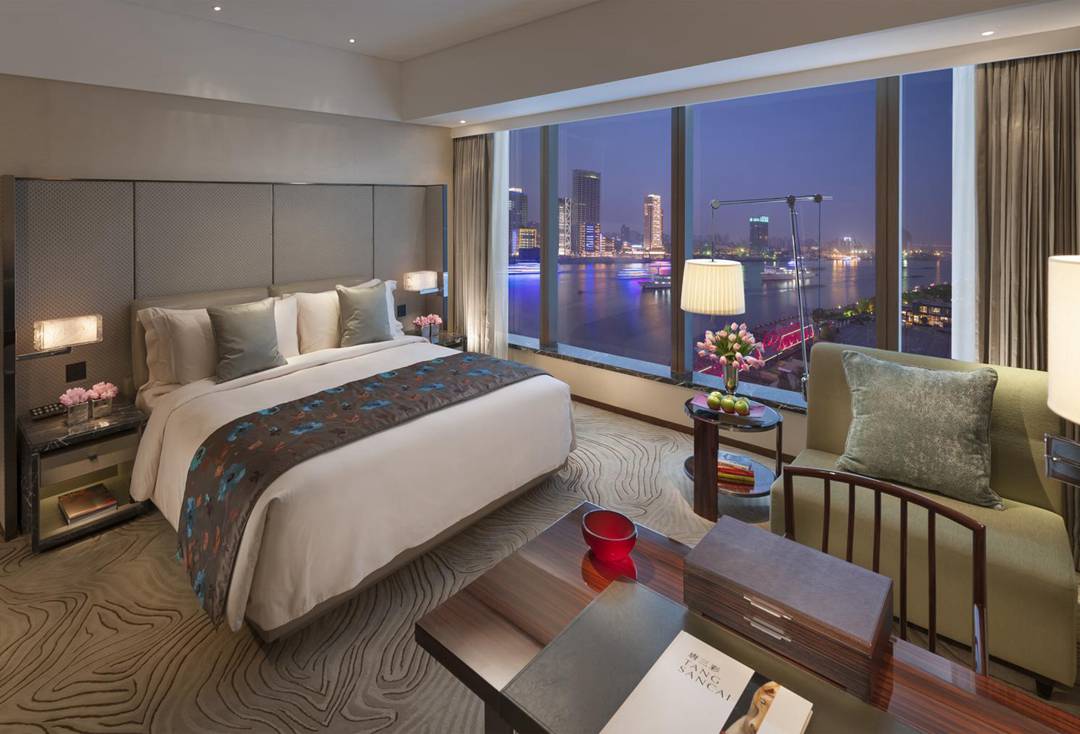 Mandarin Oriental Pudong
The Ritz-Carlton Shanghai, Pudong 浦东丽思卡尔顿酒店
Experience a nostalgic moment in a modern city at The Ritz-Carlton Shanghai, Pudong, a hotel that seamlessly enfolds its Art Deco heritage into a brilliant contemporary design. Located on the upper floors of a stylish 58-floor tower in Lujiazui, in the very heart of Shanghai's commercial, financial and upscale retail center, this luxury hotel's stunning views of the Bund and Oriental Pearl Tower is just one of the memorable experiences guests will take away from Shanghai. This award-winning hotel offers a luxury experience like no other, featuring breathtaking views, 285 Art Deco-inspired guest rooms and suites, elegant wedding venues and China's highest rooftop bar on 58th floor that serves Asian tapas and seafood.
Room rates at the Ritz-Carlton, Pudong start from RMB 2,600.
Address: Shanghai IFC, No.8 Century Avenue, By Lujiazui Ring Road, Pudong New District (021-2020 1888)
地址:浦东新区陆家嘴世纪大道8号国金中心, 近陆家嘴环路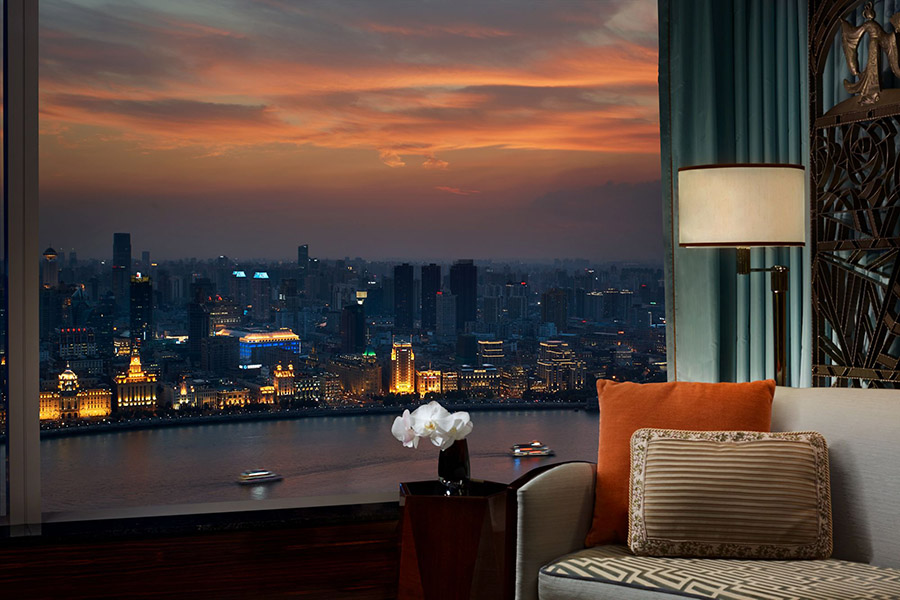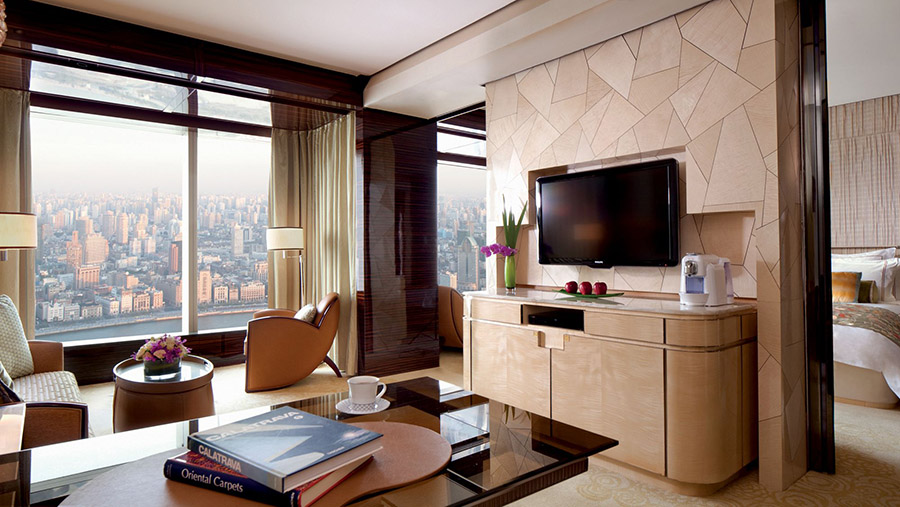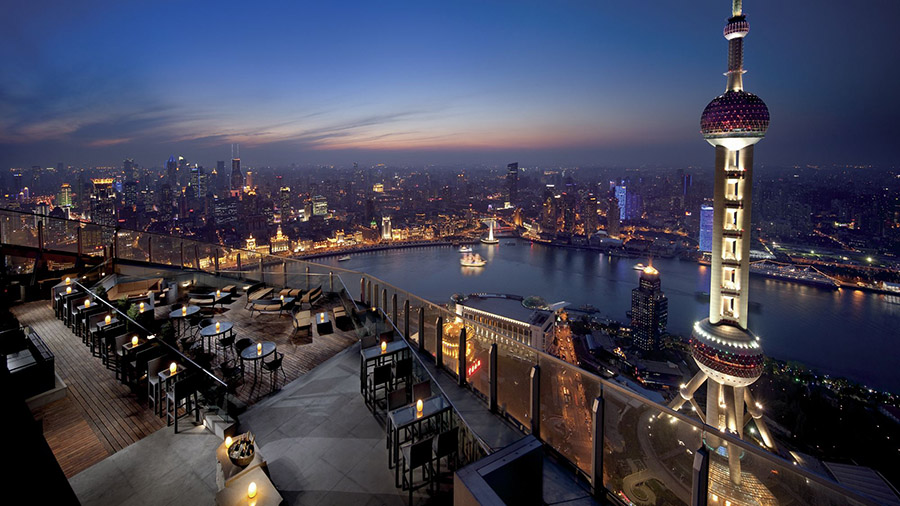 The Ritz-Carlton Shanghai Pudong
Presenting striking architecture and interior design, awe-inspiring views, exceptional accommodations, exquisite culinary offerings and world-class artwork — all complemented by exceptional service — Park Hyatt Shanghai is the ideal home away from home for connoisseurs of sophisticated living.
Occupying the 79th through 93rd floors of the Shanghai World Financial Center in the heart of the Lujiazui financial district, it soars above the metropolis where guests get to take in sweeping views of the city skyline and Huangpu River from any of its 174 luxury rooms and suites or enjoy a choice of some well-known Shanghai restaurants, such as 100 Century Avenue Restaurant featuring Western, Japanese and Chinese cuisines, and Dining Room, popular for its European specialties. Park Hyatt Shanghai is also home to the renowned Water's Edge Spa and is an ideal venue for meetings and weddings.
Room rates at Park Hyatt Shanghai start from RMB 2,260.
Address: No.100 Century Avenue, by Lujiazui Ring Road, Pudong New District (021-6888 1234)
地址:浦东新区世纪大道100号, 近陆家嘴环路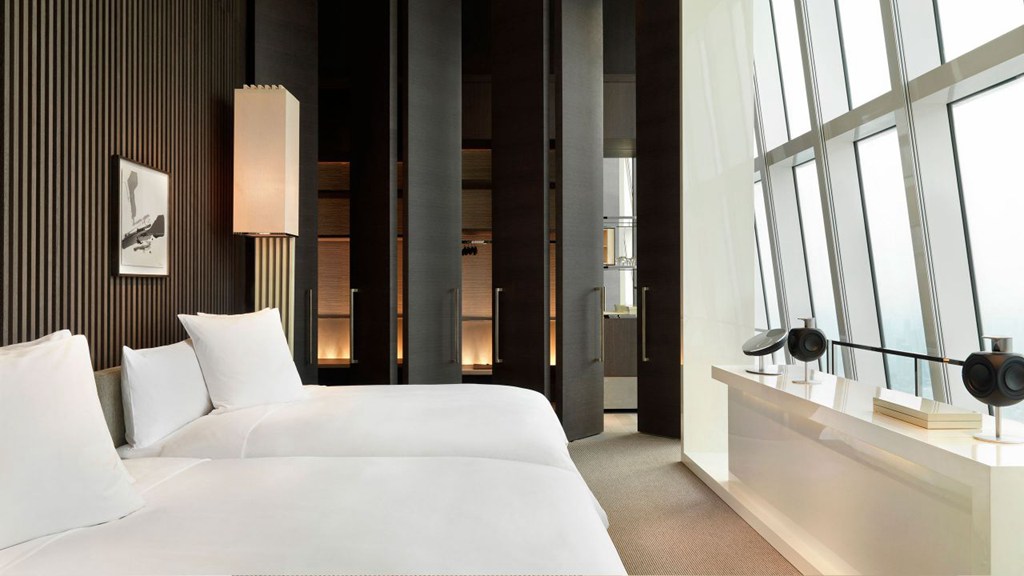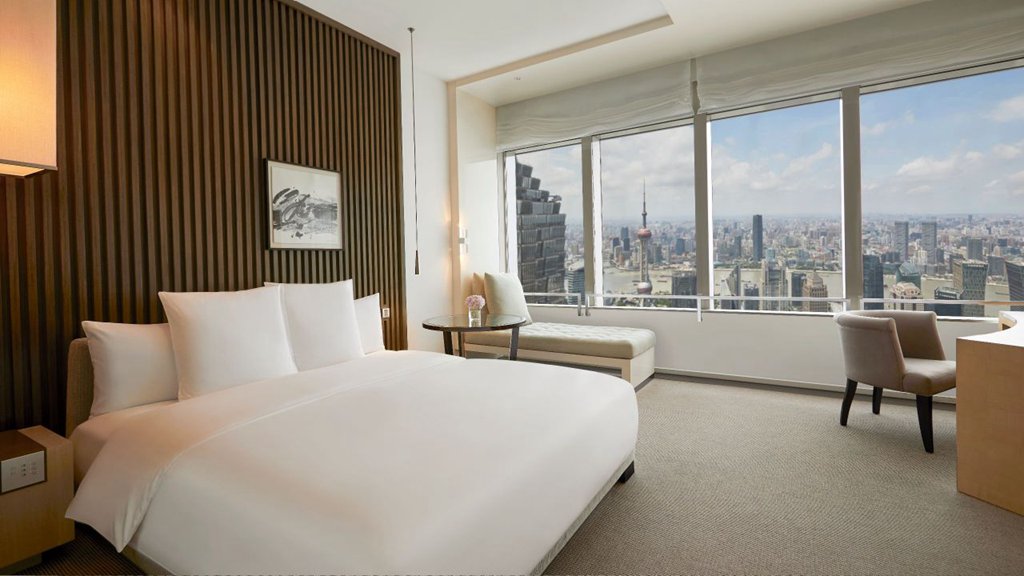 Park Hyatt Shanghai
Jing An Shangri-La, West Shanghai 静安香格里拉大酒店
The charm of Shanghai is accentuated in the city's upscale Jing An district, where glamorous malls and skyscrapers stand alongside quaint shops and lane houses. Jing An Shangri-La, West Shanghai is central to the 450,000 square-metre Jing An Kerry Centre, which integrates prime hotel, retail, office and residential space overlooking a beautifully landscaped piazza. Shangri-La provides a respite from the city. After an easy check-in, you consider your options for dinner - Cafe Liang for all-day dining or an international buffet, TSURU Japanese Restaurant for traditional Japanese Kaiseki cuisine, Summer Palace for authentic Cantonese cuisine, 1515 WEST Chophouse & Bar for one of the best steaks in Shanghai, or modern Mediterranean dining at Calypso Restaurant & Bar.
The 30th to 59th floors of the Jing An Kerry Centre accommodate 508 guest rooms with room rates start from RMB1,488.
Address: No.1218 Middle Yan'an Road, Jing An Kerry Centre, by Changde Road (021-2203 8888)
地址:延安中路1218号南京西路静安嘉里中心, 近常德路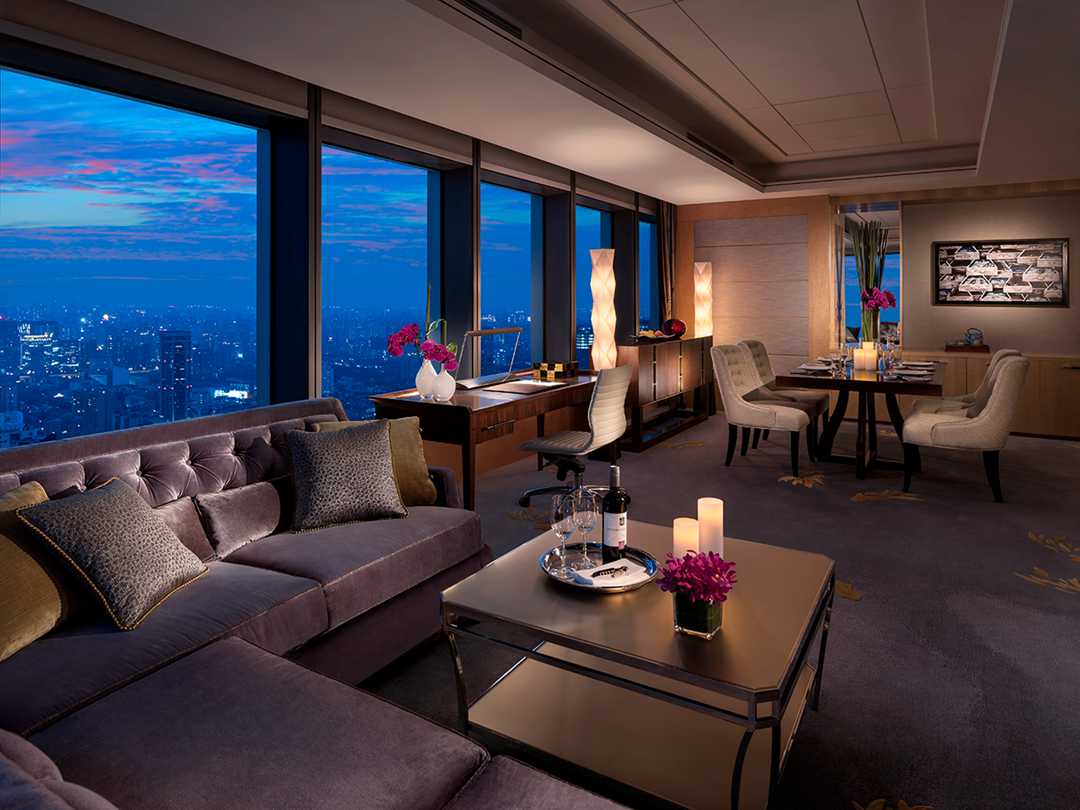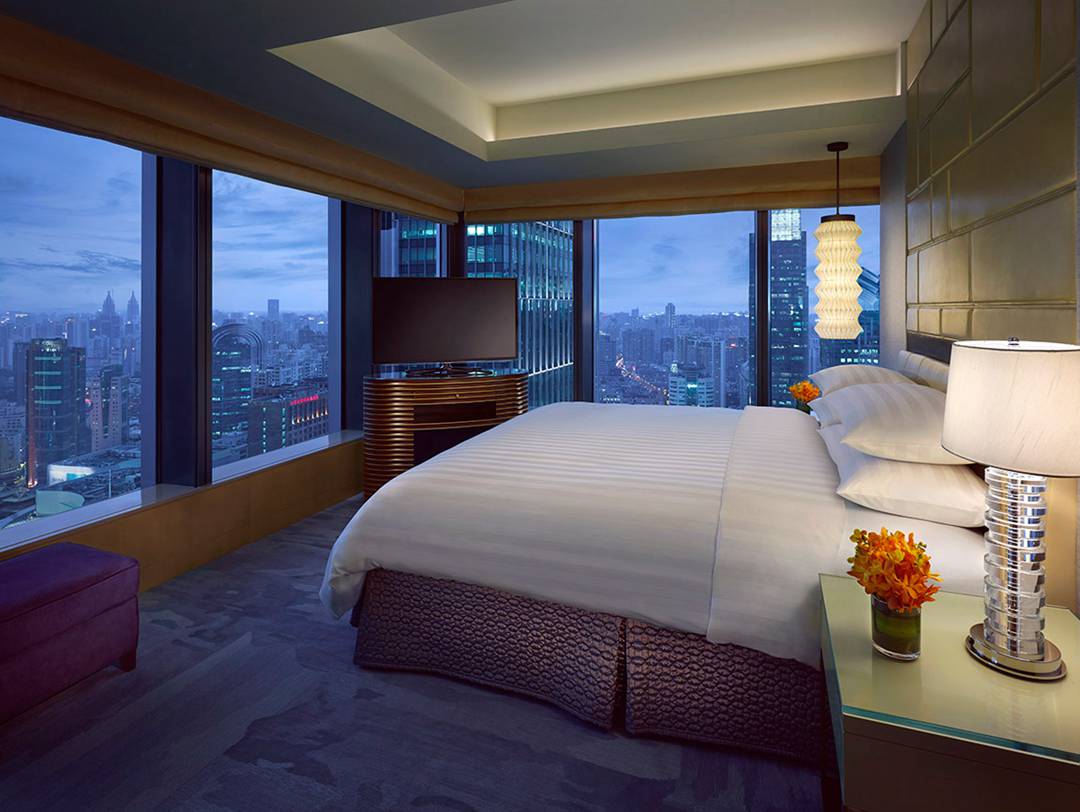 Jing'an Shangri-La, West Shanghai
As Shanghai's first luxury urban resort, The PuLi Hotel and Spa is centrally located in modern Jing'an district adjacent to the multi-use development Park Place. With 193 rooms and 36 suites, The PuLi offers 24-hour butler service, in-room dining, concierge, laundry and valet services, and a world class restaurant. The Health Club has a superbly equipped state of the art gymnasium, sauna, steam room, experiential showers, jacuzzi pool, 25-metre lap infinity pool as well as the first Anantara Spa in Shanghai. Using a range of ancient therapies from China, Thailand and India, the Anantara Spa on the 3rd floor presents you with the very best way of relaxation this century has to offer.
Room rates at The Puli Hotel & Spa start from RMB1,600.
Address: No.1 Changde Road, by West Nanjing Road (021-3203 9999)
地址:常德路1号, 近南京西路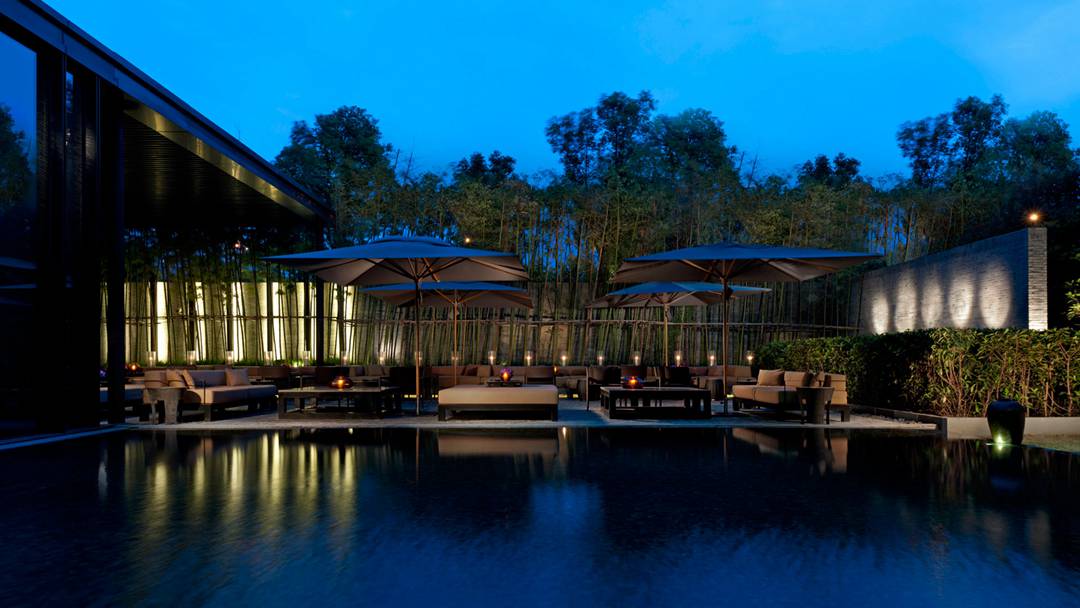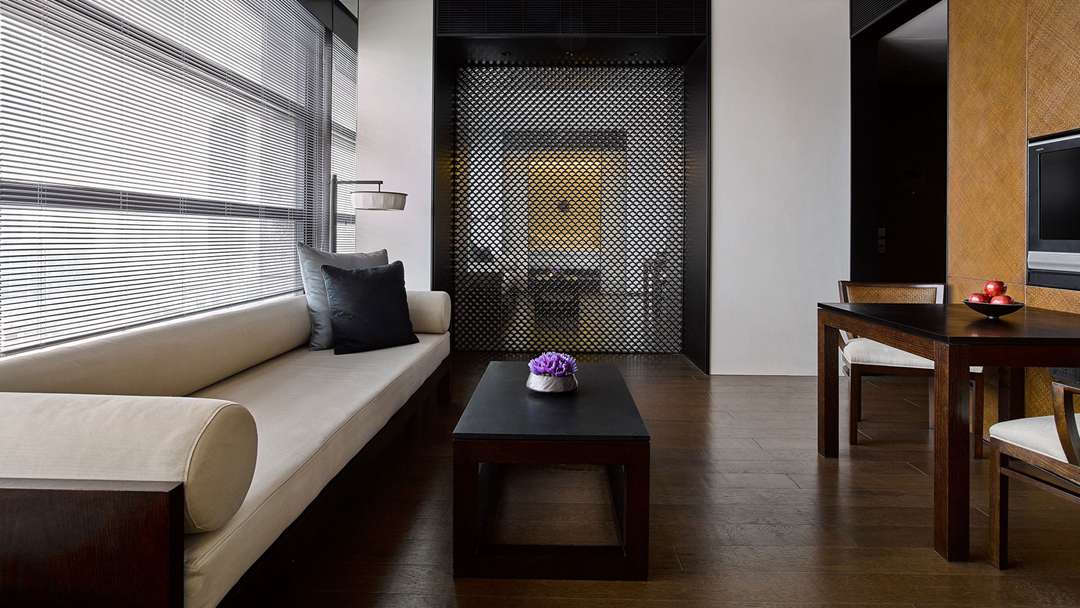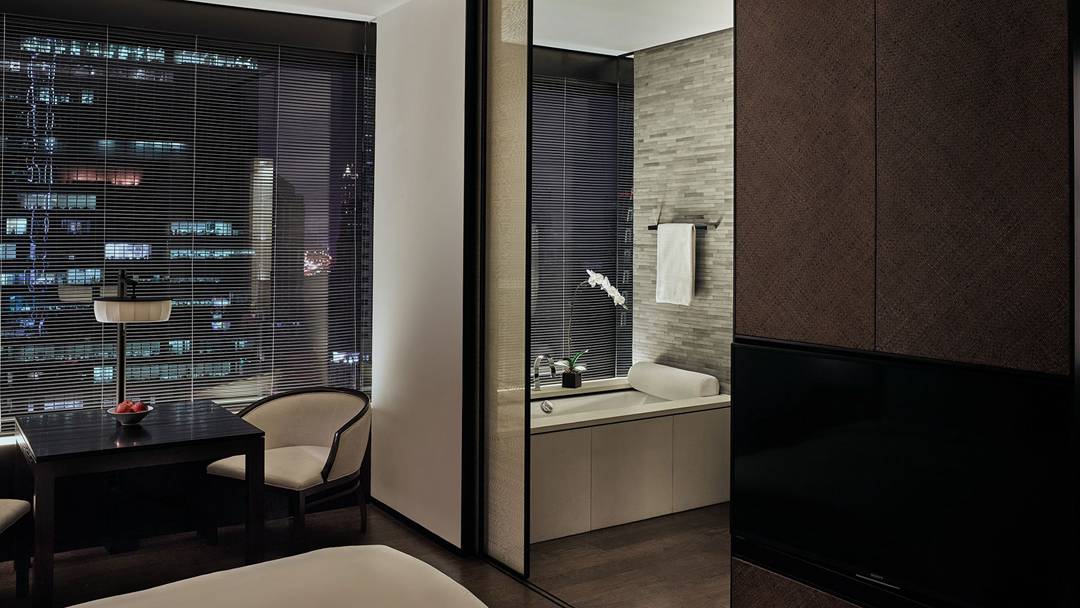 The PuLi Hotel & Spa
The Portman Ritz-Calton, Shanghai 波特曼丽思卡尔顿酒店
Award-winning Portman Ritz-Carlton, Shanghai is one of the most breathtaking five star luxury hotels in this cosmopolitan city. Located in the upscale Nanjing Road retail, dining and entertainment complex that enthralls guests with contemporary surroundings, unparalleled service and spacious accommodations, you will discover dining that encompasses both regional and international flavors and that their well-being needs are met by an extensive health club with a swimming pool and squash courts.
610 well-appointed guest rooms and suites feature contemporary Chinese in-room décor, furnishings and artwork with room rates starting from RMB1,400.
Address: No.1376 West Nanjing Road, Shanghai Center, by Tongren Road (021-6279 8888)
地址:南京西路1376号上海商城, 近铜仁路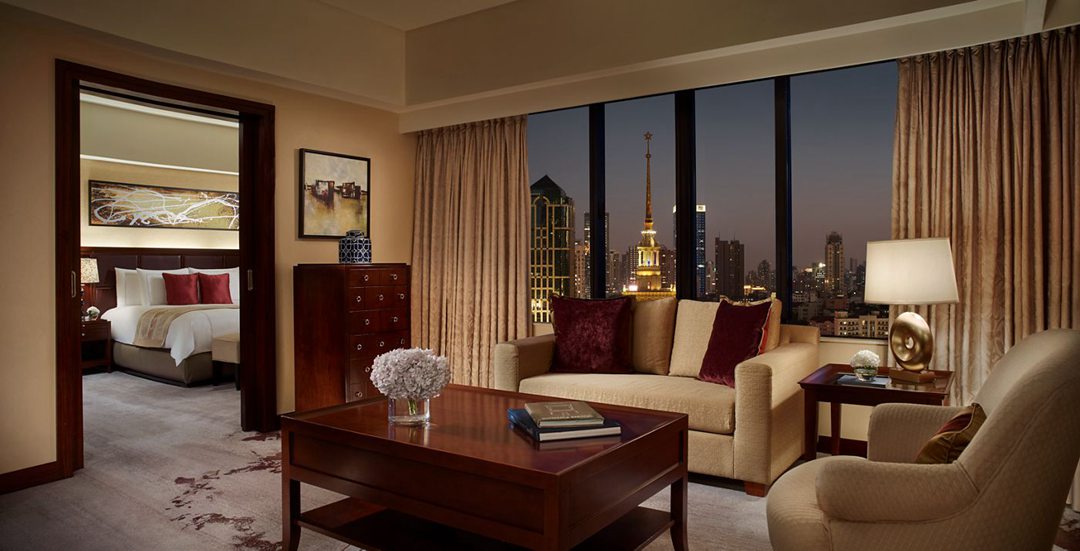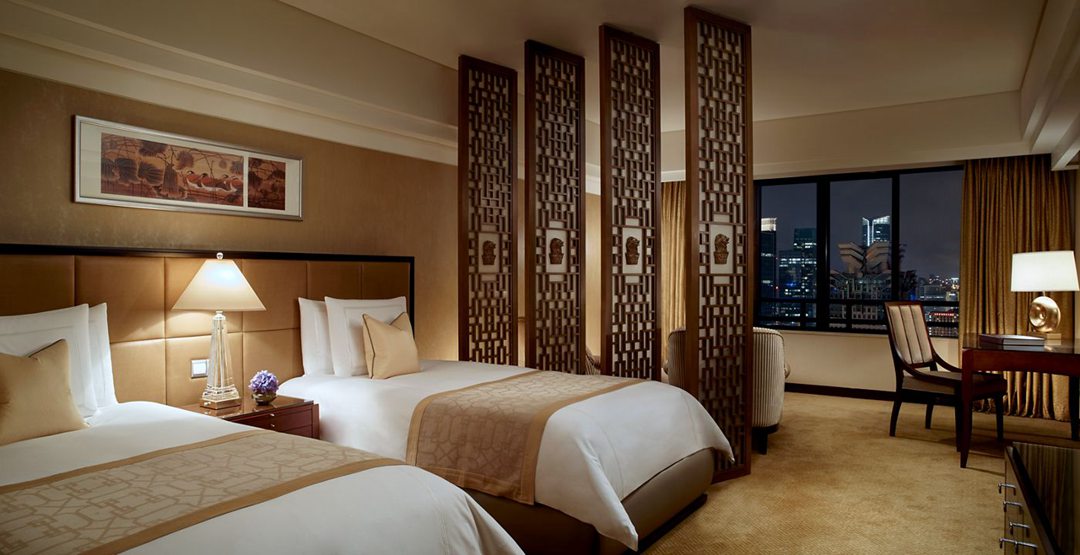 The Portman Ritz-Carlton, Shanghai
The Langham Shanghai, Xintiandi 新天地朗廷酒店
Located at the gateway to the "Champs Elysees of the East", The Langham Shanghai, Xintiandi enjoys an unbeatable location in the heart of Shanghai where old meets new. Blending traditional Chinese elements with chic contemporary style, 357 guest rooms and suites in the hotel envelop travelers in extreme spacious comfort. Each room is elegantly appointed with indulgent furnishings and signature amenities, all of which feature stunning views of dynamic Shanghai framed by large floor-to-ceiling windows. For those who are seeking an exceptional Chinese menu, Michelin three-star restaurant - T'ang Court offers a mix of traditional favorites and remarkable contemporary dishes - a restaurant worth a special journey for sure. Whether you fancy a healthy stay at 24-hour fitness studio or enjoying a few relaxing laps at 25-metre heated indoor pool, you get to pamper yourself after busy days in the heart of hustle and hassle.
Room rates at The Langham Shanghai, Xintiandi start from RMB 2,250.
Address: No.99 Madang Road, by Middle Huaihai Road (021-2330 2233)
地址:马当路99号, 近淮海中路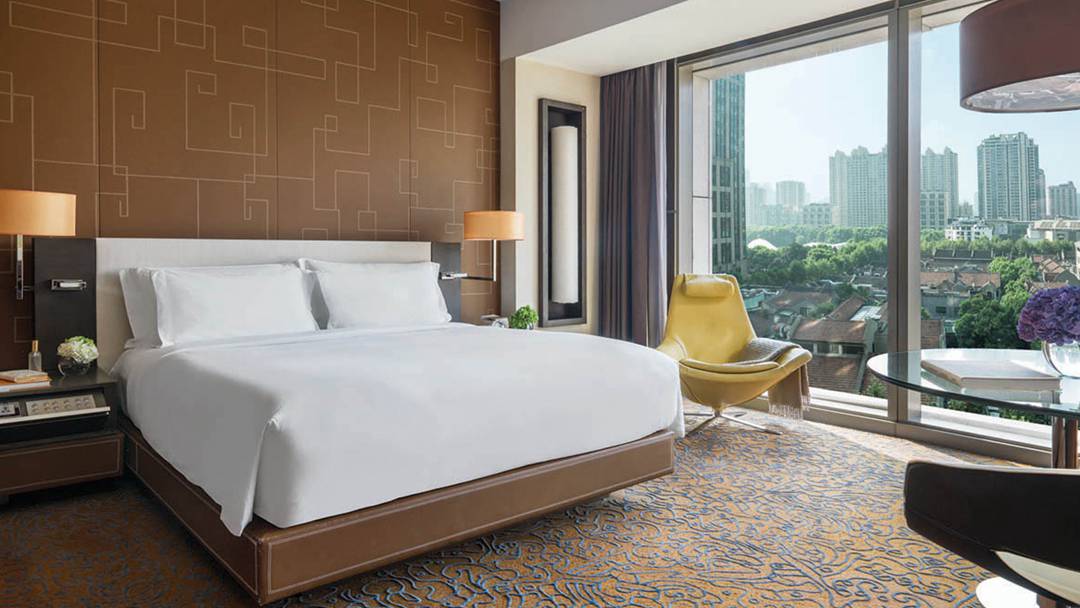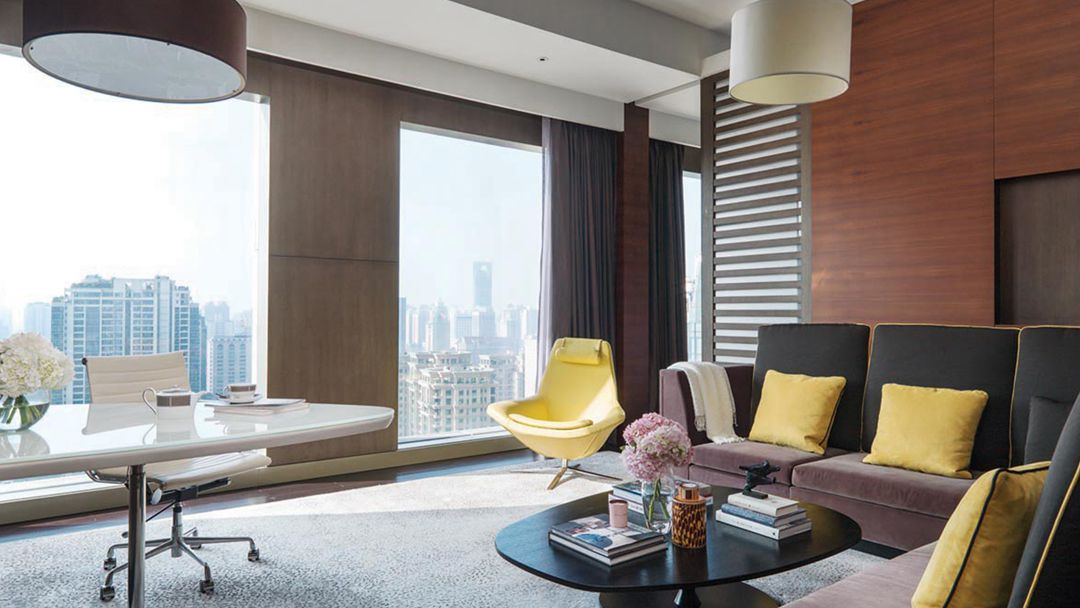 The Langham Shanghai, Xintiandi
Four Seasons Hotel Shanghai, Pudong 浦东四季酒店
The 41st-floor swimming pool at Four Seasons Pudong, surrounded by views of Shanghai's skyscraper-saturated financial district, is perhaps worth the visit alone. Arguably the hotel's highlight with infinite edges wrapped by tall glass walls, it showcases a breathtaking panorama of glassy mega-structures. Set back from the riverside but occupies a reasonably convenient position behind a trio of super-skyscrapers, the hotel offers a spectacular vista of the eclectic architecture crowding the waterfront. Shanghai's most recognizable landmarks - Oriental Pearl Tower, SWFC, Jinmao Tower and Shanghai Tower that features the world's tallest observation deck, are right next door.
Families can opt for interconnecting rooms and an additional bed/cot is complimentary for under-18s. A children's menu is available at Camelia restaurant.
Room rates at Four Seasons Pudong start from RMB 2,000.
Address: No.210 Century Avenue, by Lujiazui Ring Road, Pudong New District (021-2016 8888)
地址:浦东新区世纪大道210号, 近陆家嘴环路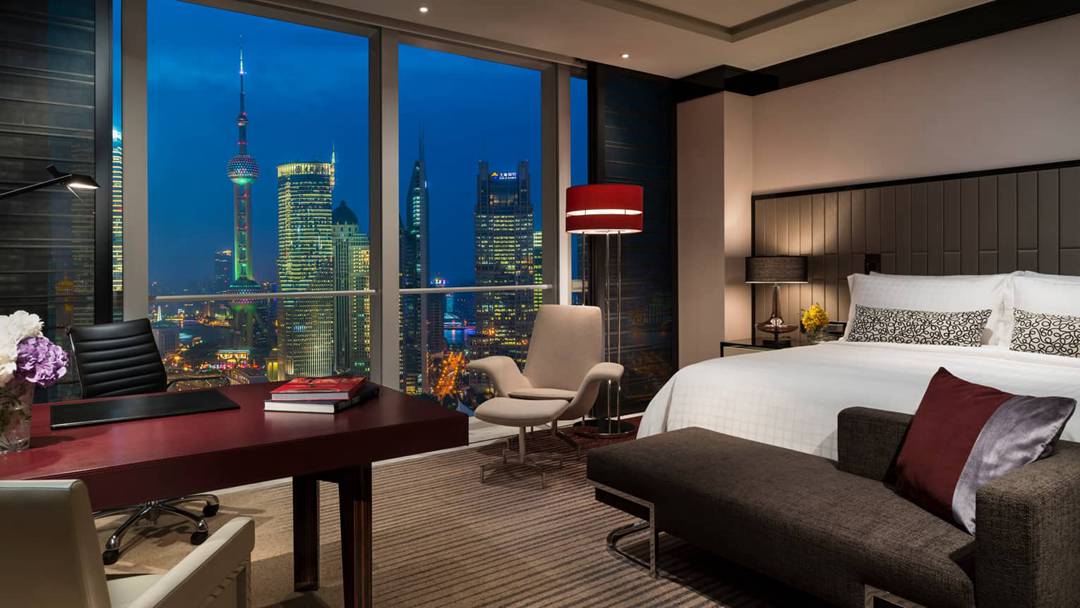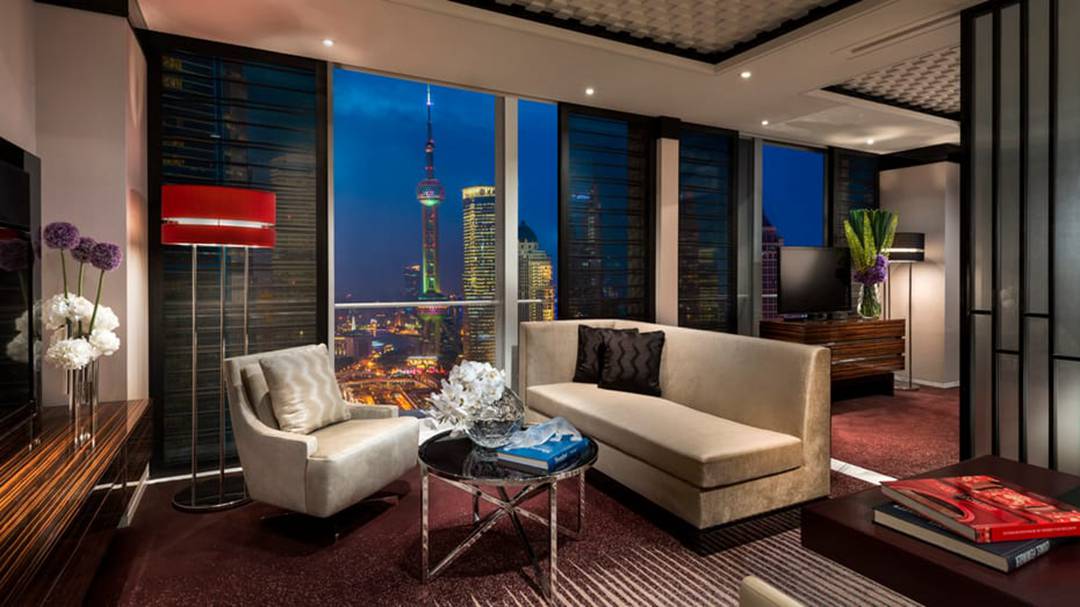 Four Seasons Hotel Shanghai, Pudong
To maximize its prime location on the western banks of the Huangpu River, the cutting-edge hotel has been angled so that most of the rooms benefit from a spectacular view of either the historical architecture down The Bund or modern skyscraper-lined Pudong across the river. With convenient access to Shanghai's airports and to Shanghai International Convention Centre via Xinjian Road Tunnel within 10 minutes, it's merely a five-minute walk to the International Cruise Terminal subway station on Line 12. A member of the Grand Hyatt portfolio, Hyatt on the Bund offers guests the experience with stylish restaurants, sophisticated comfort, and functional conference rooms equipped with advanced technological equipment.
Boasting a total of 620 guest rooms, including 48 suites, split between the East and West towers, these contemporary spaces feature floor-to-ceiling windows allow guests to best experience the breathtaking views of panoramic Pudong skyline.
Room rates at Hyatt on the Bund start from RMB 1,600.
Address: No.199 Huangpu Road, by Nanxun Road (021-6393 1234)
地址:黄浦路199号, 近南浔路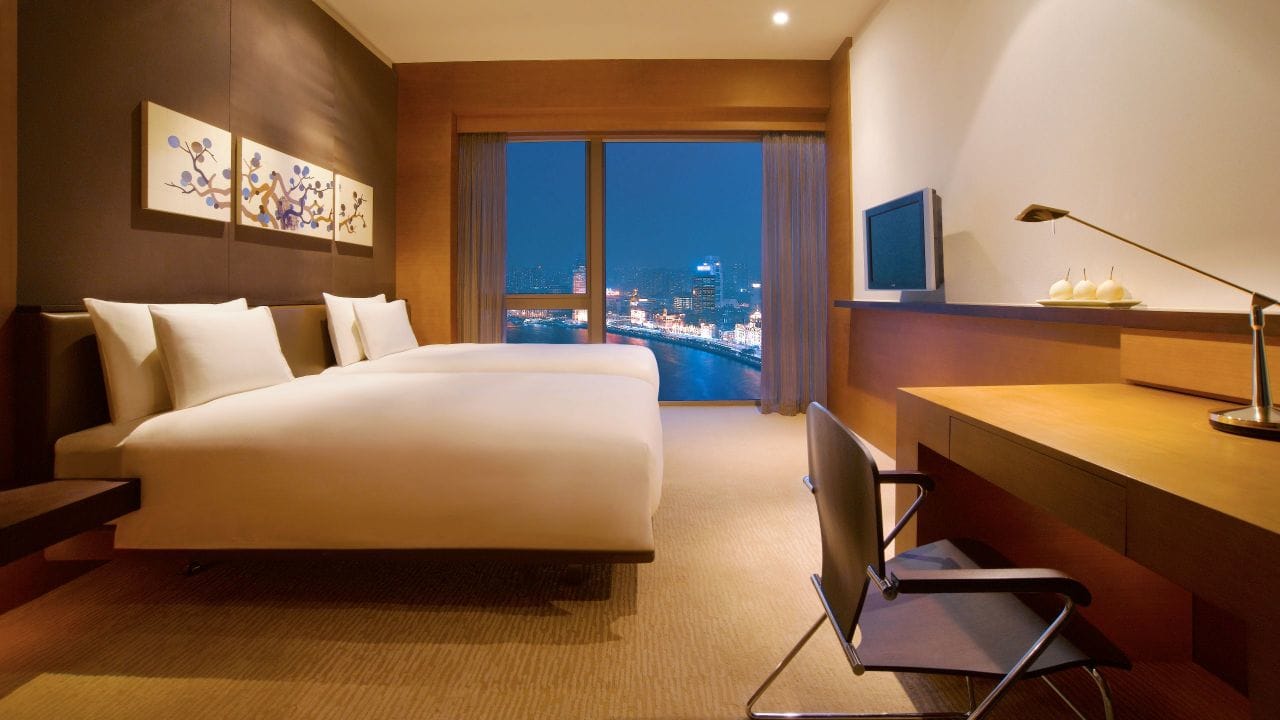 Hyatt on the Bund
Luxury in Heritage Architecture
In the shadow of all Shanghai's hulking towers of glass and steel are the city's brick and mortar roots. And some of the best-preserved pieces of heritage architecture have been preserved as hotels. Here are four of Shanghai's best Heritage Hotels.
The Fairmont Peace Hotel 费尔蒙和平饭店
There is no building more emblematic of the Bund than The Peace Hotel. Famed real estate tycoon Victor Sassoon opened the property in 1929 as the Cathay Hotel, and in Shanghai's heady heyday it was thefashionable place to stay. An impressive list of A-listers have graced its halls. Among them were Charlie Chaplin, George Bernard Shaw and Noel Coward. In 1949 the New China was established. Seeing the writing on the wall, Sassoon fled. The government appropriated the hotel and renamed it The Peace Hotel. For decades it remained a landmark and often hosted foreign dignitaries and party cadres alike. However, much of its former splendor had been boarded up or re-purposed for offices. In 2007, the Fairmont group took over management duties and promptly shut it down for an intensive remodeling -- more like an excavation -- project. In 2010 the hotel re-opened, restored to its original splendor. The interior boasts a bright and beautiful atrium with exquisite tile mosaic floors and elegant art-deco flourishes at every corner.
The Fairmont Peace Hotel books 270 guest rooms and 39 suites. Room rates start around 2300rmb, depending on the season.
Address: No.20 East Nanjing Road, by East Zhongshan No.1 Road (021-6138 6888)
地址:南京东路20号,近中山东一路
Waldorf Astoria Shanghai on the Bund 上海外滩华尔道夫酒店
The Waldorf-Astoria's Shanghai property is relatively new as a hotel, but the building that houses it is a Shanghai icon. It began 1910 as the Shanghai Club, a British social organization that admitted only wealthy white males. For a while the club was famous for being home to the longest bar in the world. It was a 34-meter-long plank of mahogany. Even this posh watering hole had hierarchy the prime seats closest to the windows were for the taipans, or business executives, and bank managers. Each step further down the bar was another rung lower on the social ladder. In 1941, the club was closed and occupied by the Japanese. Naturally, in 1949, it was appropriated by the Chinese government. It underwent several incarnations thereafter, among them a club for international sailors, a state-owned hotel and it was even home to the first Kentucky Fried Chicken in Shanghai for a spell. Hilton Worldwide took over management of the property in 2010 and designated it a Waldorf-Astoria property. The heritage portion of the hotel remains stunning. They've restored the Long Bar, and it is one of the more atmospheric places to get a drink in town. The hotel also boasts a beautiful, fully functional antique Otis elevator.
Room prices in the Waldorf run quite a broad range. One of its 260 standard rooms in the new tower goes for 3,000 to 4,000rmb per night. Suites in the heritage building will set you back anywhere between 5,800 and 9000rmb.
Address: No.88 Middle Sichuan Road, by Guangdong Road (021-6322 9988)
地址:四川中路88号,近广东路
On a bend in the river at the heart of the city, the Peninsula has far-reaching views along Shanghai's famous Bund and across to Pudong's 21st-century skyline. Surprisingly, The Peninsula Shanghai is the only new building on the Bund during the past 60 years, but you'd never know just by looking at it. Architect David Beer's contemporary take on classic art deco blends this hotel seamlessly into the rest of the riverfront promenade. Following in the footsteps of the original property in Hong Kong, The Peninsula Shanghai evokes a sense of early 20th century glamor with everything from its palatial Lobby with art deco accents to its world famous afternoon tea to its traditionally-dressed pageboys. Yet it embraces all of the comforts of contemporary living with a state-of-the-art health club and spa and a host of smart one-touch in-room technology. As if all of that weren't opulent enough, the hotel has a fleet of its own four signature Peninsula green Rolls-Royces and six BMW 7-series that, for a price, you can avail yourself of for transportation to and from the airport.
Room rates at The Peninsula start from RMB 3,500 and climb precipitously to RMB135,000 for the lavish Peninsula Suite. Luxury doesn't come cheap.
Address: No.32 East Zhongshan No.1 Road, by East Beijing Road (021-2327 2888)
地址:中山东一路32号, 近北京东路
InterContinental Shanghai Ruijin 瑞金洲际酒店
The site is chock full of Shanghai history. It began has the residence of British horse and dog racing magnate Benjamin Morris. Chiang Kaishek proposed to his wife Soong Mei-ling here. Chen Yi, Shanghai's first mayor after the Communist Revolution, kept his office here. For decades, the property was also a state guesthouse used solely for visiting party cadres and foreign dignitaries. As such, it has been host to the likes of party leaders like Liu Shaoqi, Zhu De, Zhou Enlai and the Chairman himself, Mao Zedong. Vietnamese revolutionary Ho Chi Minh has also stayed here as has former U.S. President Richard Nixon. The grounds themselves are gorgeous -- 100 acres of well manicured lawns, trees, and a breathtaking water feature feel like an escape from the hustle and bustle of the city. Two new buildings have been added to the property to house guest rooms, both are faithfully in keeping with colonial British style that dominates the architecture here. The InterContinental group came on board to manage the site 2013.
Rooms in the Intercontinental Shanghai Ruijin start at around 1000rmb for a business room. Superior suites go for 2688rmb.
Address: No.118 Ruijin Er Road, by Middle Fuxing Road (021-6472 5222)
地址:瑞金二路118号,近复兴中路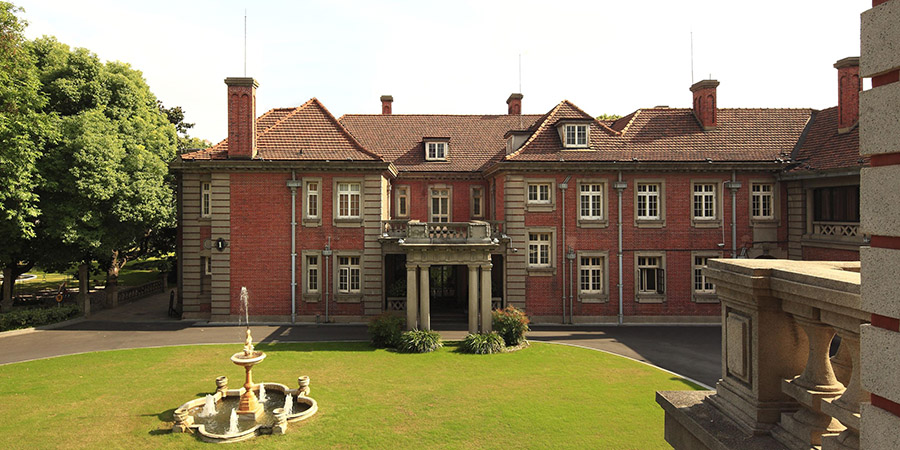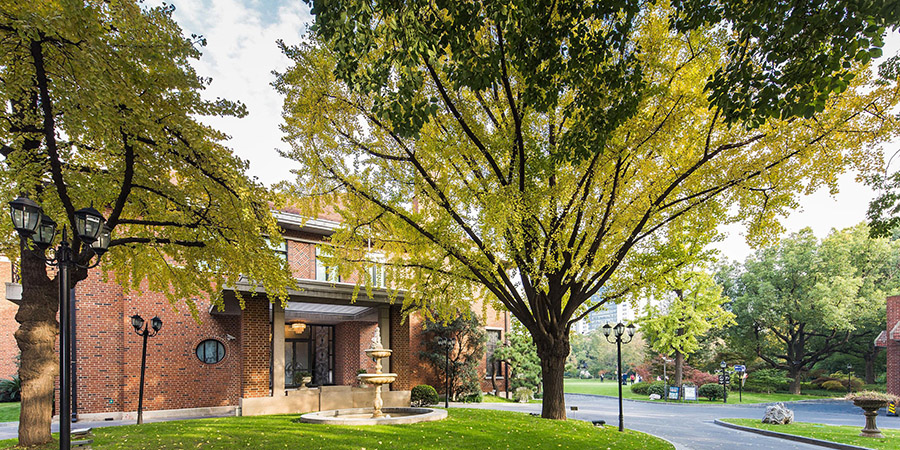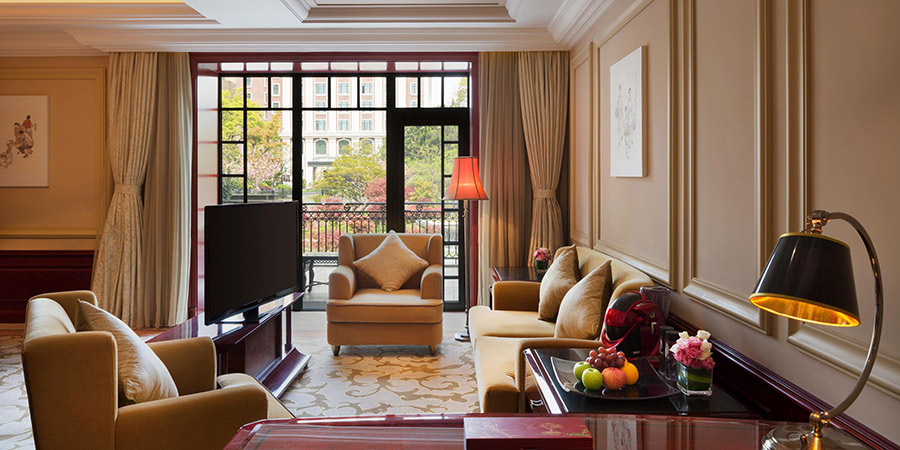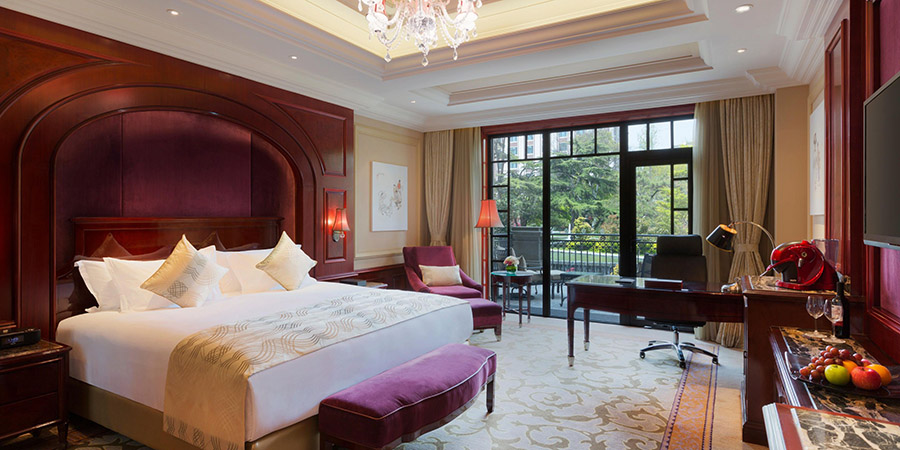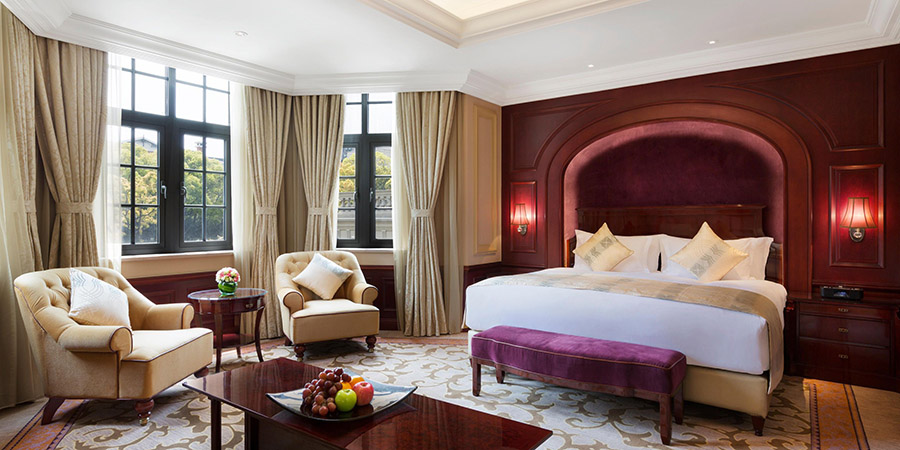 InterContinental Shanghai Ruijin 瑞金洲际酒店
Boutique Hotels
While demand for typical holidays involving luxury big brand hotels and large tour groups continues, today's discerning Chinese tourists seek new and unique travel experiences. For the hospitality sector in China, social media, combined with increasing wealth, has worked to encourage people to travel. This has led Chinese consumers in recent years to shift their spending and aspirations from buying luxury goods towards experiential travel. This new breed of domestic travelers is shaping the future of China's hospitality industry towards experiential traveling and hotels, which has encouraged a number of branded hoteliers to pursue experiential travel market opportunities through the likes of ski, health and adventure resorts outside of the major cities. They were more willing to turn their interest to brands that require less investment and offer faster payback.
Also, in these days, small luxury hotel/lifestyle hotels or boutique hotel has gradually become popular in China - not as majestic and unified as large international chains but draw consumers by their delicate and characteristic hotel culture. For instance, Emperor Hotel in Beijing, which is considered affordable and cost-efficient among Beijing luxury hotels. It has become one of the hottest places for foreigners to have a Beijing-style night.
In Shanghai, the Waterhouse at South Bund that was transformed from an old industrial warehouse has become a hot spot for tourists who desire an experience of exceptional Shanghai night. The design concept is expressed through both a blurring and an inversion of the internal and external space as well as the public and private space, creating a slightly disorienting yet refreshing spatial experience for guests who seek the extraordinary. The public spaces allow glimpses of private guest rooms while the guest rooms invite you to look onto public areas, resulting in an unexpected welcome that defines the hotel experience.
The cutting-edge design boutique hotel features views of the Huangpu River and Pudong skyline beyond, serving as a contextual link to history and local culture.
Address: No.1-3 Maojiayuan Road, by South Zhongshan Road (021-6080 2988)
地址:毛家园路1-3号,近中山南路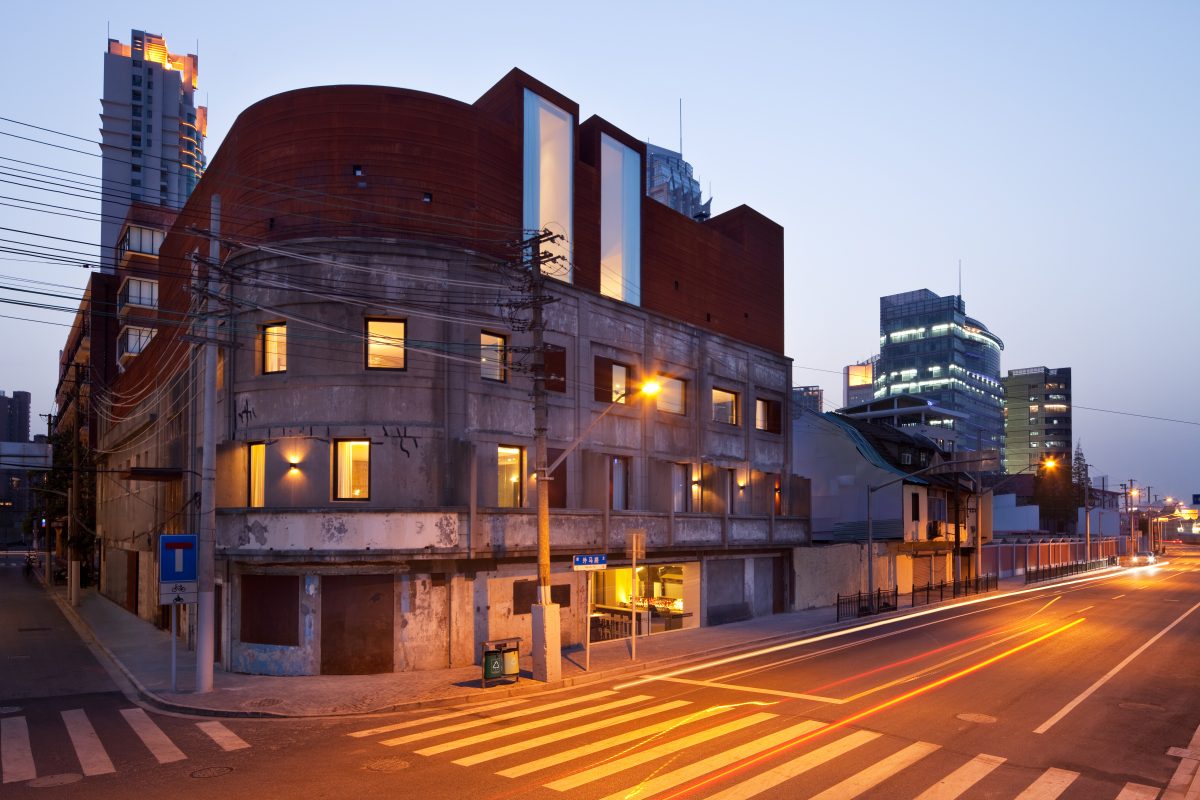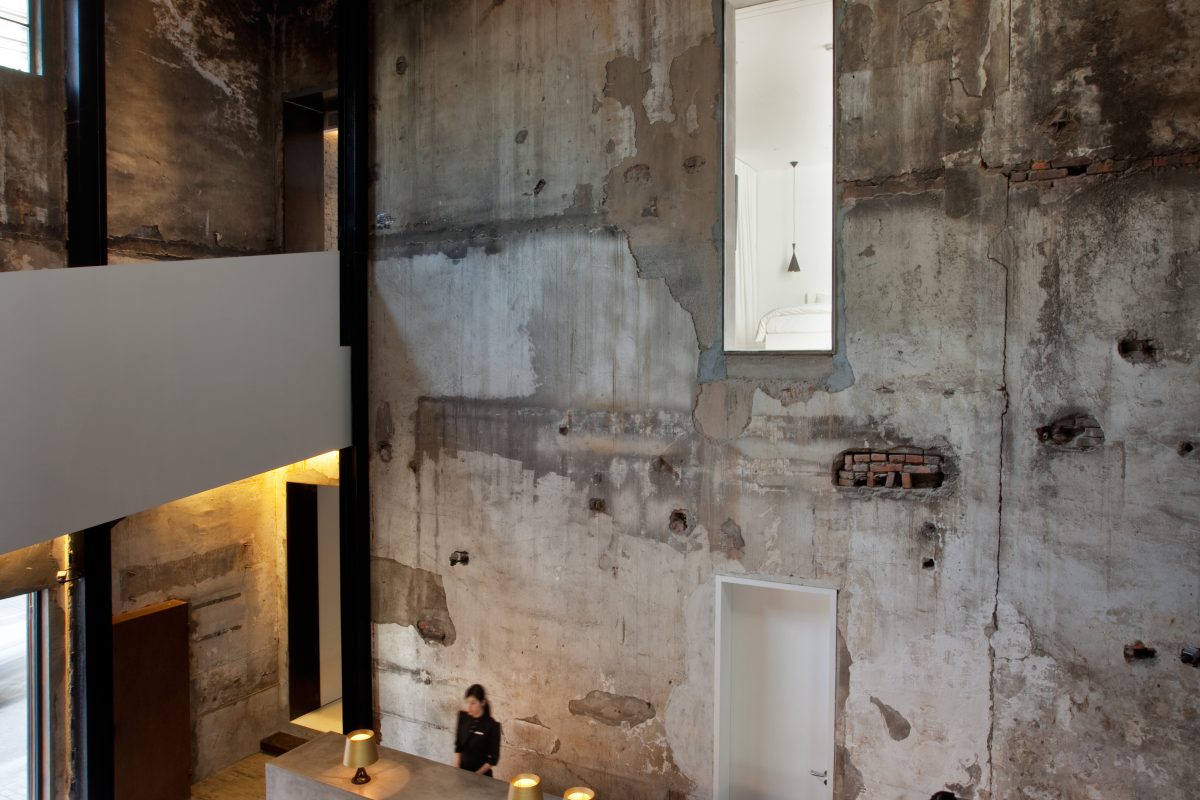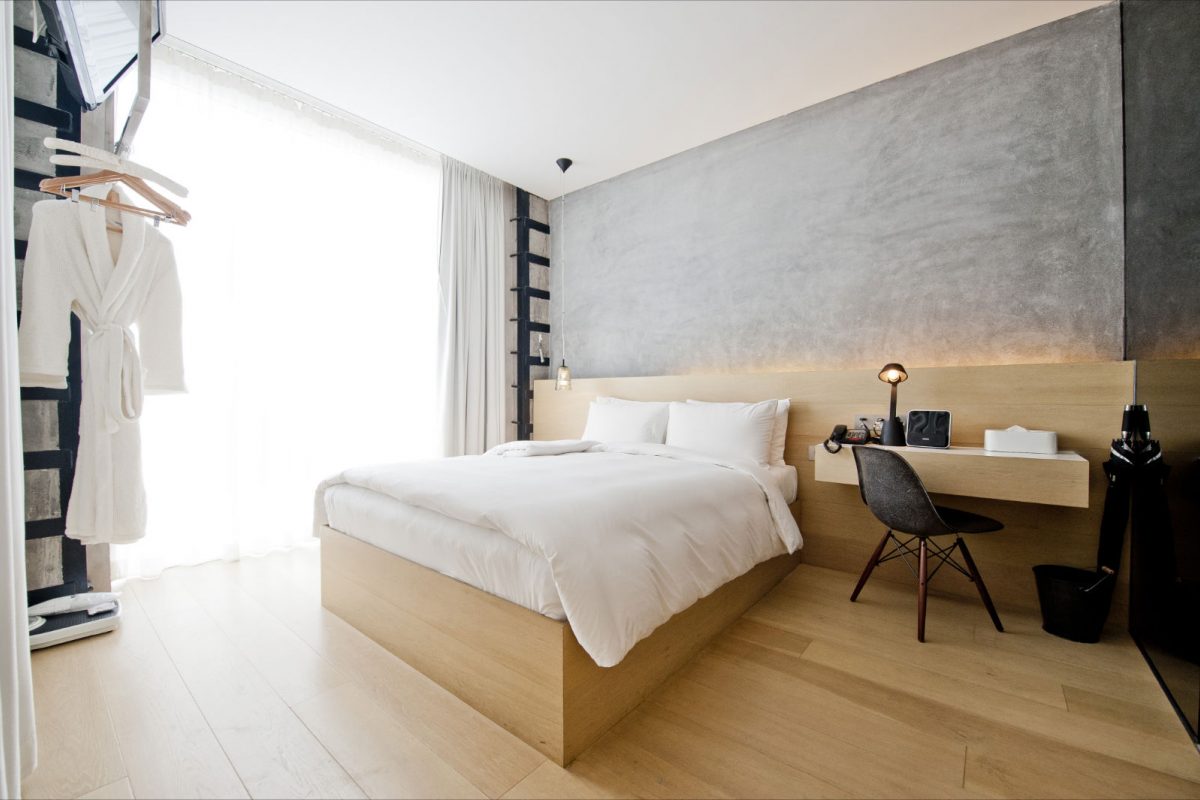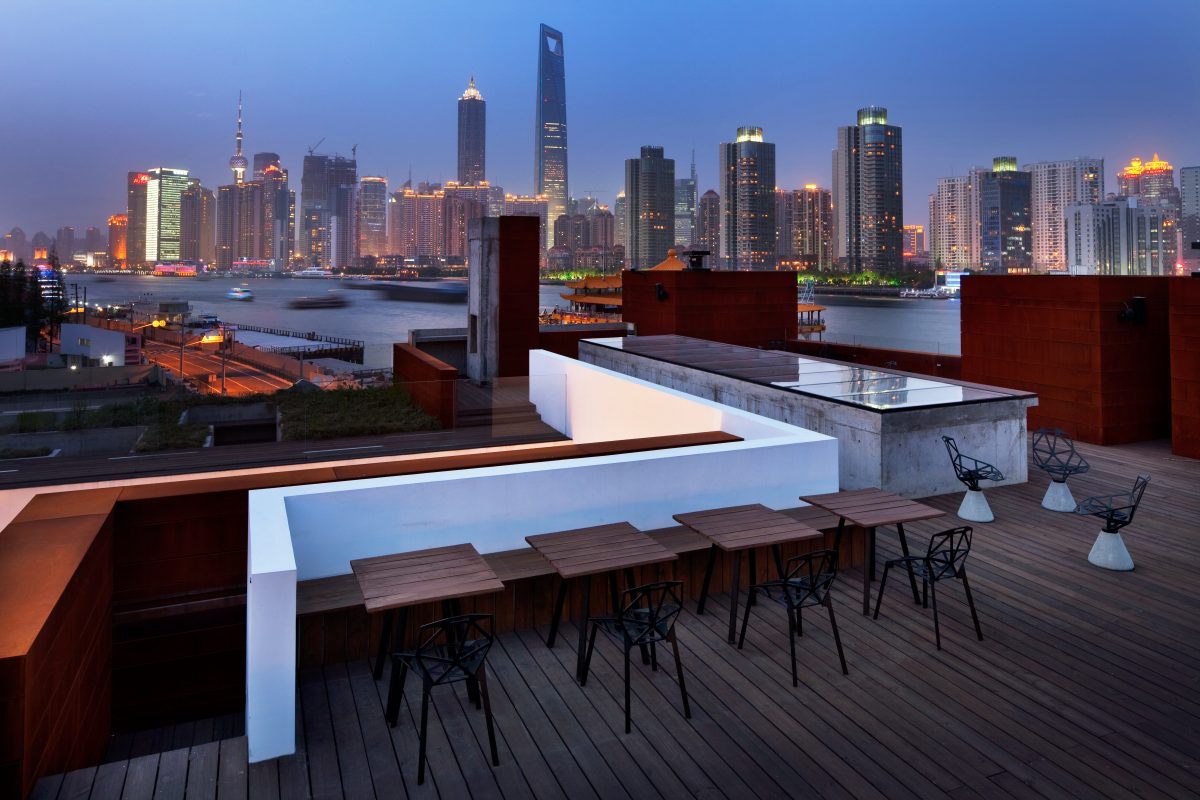 Waterhouse at South Bund 水舍

Le Sun Chine 绅公馆 (Closed)
This tucked-away Spanish-style villa was built in 1932 and began as a property of the illustrious Sun family -- they of Dr. Sun Yat-sen fame. The famed Father of Modern China is even said to have spent some time here, making the building a heritage architecture site. Owners Chen Le and Sebastian Sun (hence the name) purchased the property in 2009 and by 2010 had converted it into a boutique hotel. With only 17 rooms spanning four floors, Le Sun Chine promises highly personalized and attention-oriented service -- enough to receive Relais & Chateaux certification. This is a global affiliation of elite hotels, guest houses and restaurants recognized for their unique decor and high standards of service and amenities. The decor here harks back to Shanghai's days as a treaty port with Chippendale cabinets, phonograph players, dressing screens and loads of chinoiserie. The lobby and reading room are complete with chaise lounges and there is champagne specializing in the elite champagne brand Salon.
Rooms in Le Sun Chine range in price from 1,880 to 5000rmb per night, depending on the size of the room. Not a single room in the place is the same, assuring a unique aesthetic experience with each stay.
Address: Building 6, No.1220 Hushan Road, by Jiangsu Road (021-5256 9977)
地址:华山路1220弄6号楼,近江苏路
Serviced Apartments
Besides the luxury hotels and boutique hotels, Serviced Apartments gives an alternative option when travelers and foreign investors hailing to the city, it is especially suitable for those who travel or work with families or are planning for long-term stays in town. We hereby picked a few for your reference.
Residences at Kerry Parkside 浦东嘉里城服务式公寓
As one of the most fast-growing districts in Shanghai, Pudong has attracted hundreds and thousands of foreign talents in the past decades. Located in central Pudong and steps away from the lush greenery of Century Park, the Residences at Kerry Parkside is a great choice for those who work near nearby. Managed by Shangri-La International Hotel Management Limited, the Residences at Kerry Parkside enjoys easy access to a variety of vibrant retail options, including an international supermarket, a wide selection of restaurants, and services that cater to everyday needs. The Eco-friendly property is also conveniently connected to an extensive transportation network, making it easy to get around the city.
Address: No. 1398 Huamu Road, by Fangdian Road, Pudong New District (021-6169 5000)
地址:浦东新区花木路1398号, 近芳甸路
Fraser Residence Shanghai 上海辉盛庭公寓
Fraser Residence Shanghai offers 324 Gold-Standard fully-furnished residences with award-winning designer interiors, quality furnishings and modern conveniences. With a host of comprehensive and offerings such as complimentary Wi-Fi access in rooms and around the property, regular housekeeping services, and 24/7 reception and concierge services, Fraser Residence Shanghai luxury serviced apartments make living in a dynamic city like Shanghai easy and hassle-free, whether for a long or short stay in the city. Located in central city steps away from lush Huaihai Road and entertaining center - Xintiandi, Fraser Residence Shanghai proves to be an ideal and conveniently-located property for guests to capture the city's vibrancy in the comfort of their executive apartments.
Address: No.98 Shouning Road, by South Xizang Road (021-2308 0000)
地址:寿宁路98号, 近西藏南路
Ascott Huai Hai Road 上海雅诗阁淮海路服务公寓
Ascott Huai Hai Road Shanghai is located in a prestigious commercial street - Huai Hai Road, with a short walk to iconic landmark - Xintiandi with restaurants, bars and boutiques, and surrounded by Hongkong Plaza, Lippo Plaza, K11 and more.
As one of the premier collections of The Ascott Limited's serviced residences in over 80 cities in Asia Pacific, Europe and the Gulf region, each apartment in Ascott Huai Hai Road features a fully equipped kitchen and a spacious living area set apart from the bedroom. Efficient services support business executives, multi-function rooms and meeting rooms support all kinds of business events, while the 24-hour security system and security personnel provide a safe living environment for you and your family.
Ascott is the global leader in branded serviced residences, bringing more than 30 years' experience in supporting travelers who work and live away from home in this diversified metropolis.

Address: No.282 Middle Huaihai Road, by South Huangpi Road (021-2306 1888)
地址:淮海中路282号, 近黄陂南路
Hostels
For those travelers who only ask for a bed for rest and are willing to know new friends all over the world, Hostels is a good choice, especially the hostels located in central downtown.
Mingtown Etour Youth Hostel 上海新易途国际青年旅舍
Mingtown Etour Youth Hostel is known for its excellent location. Ideally located in downtown Shanghai,this charming property offers simple yet homely accommodation with free Wi-Fi. With a 5-minute walking distance to Nanjing Road commercial area and People's Square, and a 10-minute drive to historic Bund and iconic Oriental Pearl Tower in Pudong New District, the property out stands other hostels with convenient location, a charming garden and extra services like laundry and photocopying. You can enjoy Chinese dishes at the hostel's on-site restaurant. Alternatively, there are many restaurants located within walking distance of the hostel.
Guests get to choose between staying in lively shared rooms or in a quite private room with room rates start from RMB200. Single bed in male/female dormitory room costs RMB90.
Address: No.55 Jiangyin Road, by North Huangpi Road (021-6327 7766)
地址:江阴路55号, 近黄陂北路
The Phoenix Hostel Shanghai 老陕客栈
Located in the heart of Huangpu District (good for sight seening), the Phoenix Hostel is a 5-minute walk from People's Square metro station and with easy access to famous tourist attractions such as Yu Garden, the Bund, Fake market and Lujiazui financial area. Basic rooms are air-conditioned and come with a cable TV and tea/coffee-making facilities. You can either spend your time watching a DVD in the library or go sight seeing for a local experience among lane houses in the heart of Shanghai.
Local dishes are served in the hostel's restaurant but room service is also available. Room rates start from RMB300 while single bed in male/female dormitory room cost RMB90.
Address: No.17 South Yunnan Road, by East Yan'an Road (021-6328 8680)
地址:云南南路17号, 近延安东路
Shanghai Rock & Wood International Youth Hostel 上海老木国际青年旅舍
For those who land in Hongqiao International Airport, 30 minutes' drive brings you to Shanghai Rock & Wood International Youth Hostel. There is a TV in the public area where guests can also use internet or play billiards. Self-serviced laundry and luggage storage are available and an a la carte restaurant serves breakfast in the hostel. You get to choose between staying in lively shared rooms or in a quite private room, however, bathrooms and shower facilities are shared. With a lovely green yard among old Shanghai lane houses in quiet Changning district, this is a first choice for those backpackers who desires a peaceful and relaxed environment.
Room rates at Shanghai Rock & Wood International Youth Hostel start from RMB200 while single bed in male/female dormitory room cost RMB90.
Address: No.278, Lane 615, Zhaohua Road, by Wuyi Road (021-3360 2362)
地址:昭化路615弄278号, 近武夷路
Minshuku
At the same time, short-term lodging including vacation rentals, apartment rentals, homestays, or hostel beds has seen a dramatic increase thanks to hospitality services like Airbnb and booking. According to a research report by Lvmama, one of China's biggest tourism companies, the Minshuku in Chinese market maintained a 60 percent growth rate in 2015-2017, and the market scale is going to reach as many as RMB12 billion in 2017.
To capture the growing demands of vacation travelers, major hotel chains such as Starwood and Marriott and boutique operators such as Club Med and Banyan Tree are increasing their vacation-resort footprint across China. This trend is not limited to high-end properties.

Minshuku has seen a rapid growth in Shanghai as well. For those of who travel with a tight budget and are considering a more economic option for accommodation rather than luxury hotels, we have some to recommend based on reviews on booking.com.